My Guitars
Will be trying to work through some of the guitars that I have bought since 1972
There is a list at the bottom of this page which I will work through when I have some time to take photos etc.
I have been asked what I play, and what strings, effects etc. I use. This link's contents are in latest order of buying - WHY I bought them, bit of history, good points, bad points etc. and pix.
Latest: Vintage AMG1 Chrome..bling!! Very loud!
Mid 2015: Taylor BT1, closely followed by Taylor BT2 - great little guitars!
Taylor 110E with new Taylor soundsystem - Well lovely! (January 2015). Had HUGE strings on it which I have swapped for 10's. Lost a bit of volume, but plays like velvet!
Dobro Hound Dog Deluxe Roundneck. (02/10/2014)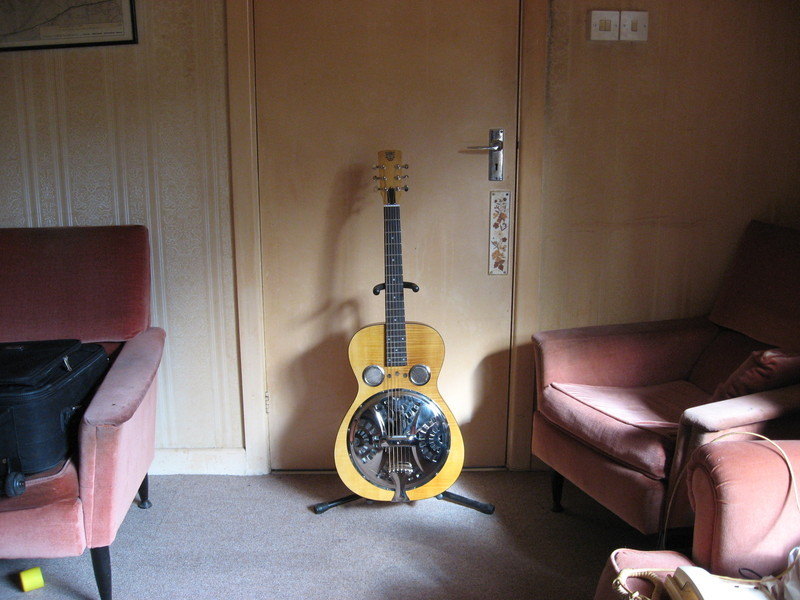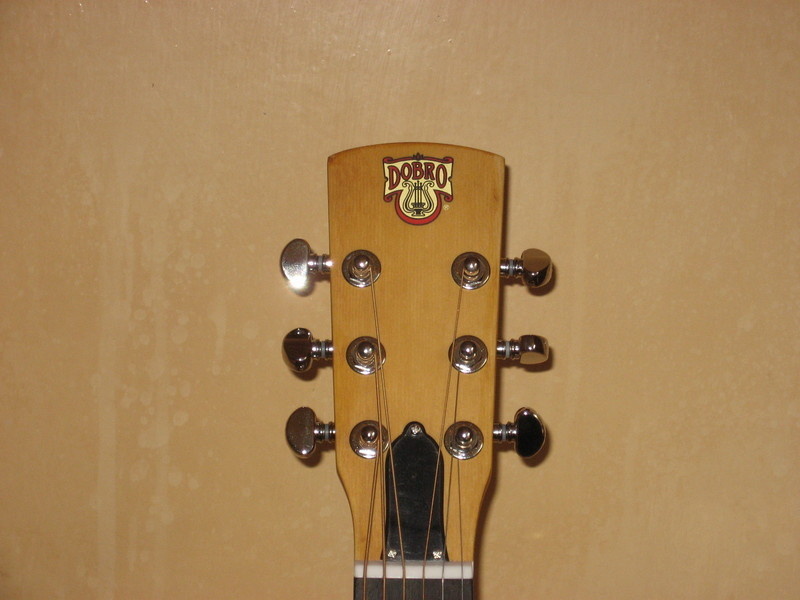 Haven't had it long enough to try it properly yet.. Everything good so far and it has an internal Fishman pickup! Thanks to Guitar Village at Farnham - Nice people to do business with.
Washburn J3
Thank you Andertons who actually had one in the flesh, after I had chased quite a few companies who advertised on the net that they had them in stock, but then emailed back to say it would take 2 months to order one.. Mind you I did want a natural one and all the others had sunbursts.
Washburn's go at an ES175 - Frankly, I have played both and there is SO little difference apart from the name on the headstock and about £1800+ price difference....
I bought it after I had been totally impressed by Mark Haley's J5 - Sunburst, which is Washburn's go at a Super 400. Very big guitar, more abilone inlays etc. - plays like a rocket.
The J3 has a shorter and wider neck with the same electronics and both have a quite phenomenal tonal range on the shoulder switch. From smooth jazz in the neck position to a flat out country Telecaster sound at the bridge position. The J5 has a bit more oomph in the bridge position, but my J3 is unlikely ever to move away from the jazz sound. Changed the strings to D'Addario 11s (wound 3rd) - works fine.
Now a little review (J3)
Plus points: Size, sound, build quality (which is superb) and the neck which has EXACTLY the same feel as my Gibson EC10. Price - a phenomenally well made jazzer for £259 - clever these Chinese chaps!! A VERY playable guitar.
Minus points: The plasticoid inlaying was a bit LOUD, although well done, and the tailpiece looks as if it came off a 1950's Pifco torch - also it appears completely indistructable, no matter how much I attack it with metal polish to try and get rid of the loud chrome finish. Inlaying is getting much better due to my ageing process - I smoke. Also the body has gone from very white wood to a much nicer honey blonde with exposure to sunlight and smoke!!!!
I am very happy with it. Superb jazzer. And out of interest Washburn were making guitars in the 1880's a clear 10 years before Gibson - so a good name to have on the headstock if that is important!
Sounds like this: Grabbed from Youtube, all credits as usual to whoever was playing it. But you see what I mean about the sound. Pure Barney Kessel 50's/60's eh?
http://www.youtube.com/watch?v=hCDq9YVl8Lc
Somebody asked if the J3 looks like a Super 400. No that is the J5 - bigger, with a thinner (more Gibson 60's) and longer neck with much more 'bling'. The J3 looks like an ES175.
Still a great, but very different guitar - I love both of them. Only disadvantage is that the J3 fits a normal jumbo hard case. The J5 does not!!
Below some badly taken pix of Mark Haley's magnificent J5 - Same problem with the indistructable cheap looking tailpiece.
Next up - Ok, it is not a guitar - but.........
Epiphone MB200 5 string banjo.
Thoughts so far: Nicely made, apart from the nut which is very badly cut and needs re-doing AND what I consider to be a major design fault on the 5th string tuner. It has a serrated metal spline that pushes into a wooden neck. The first thing it did was to route out a larger hole in the wood which rendered it virtually useless. However, after a bit of 'fettlin' by Mark Haley, everything works ok, but it probably needs a professional set up. Unusual for Epiphone.
Anyway, I can't play the thing fast yet. The trouble is I want to play like Mean Mary James (see Dobromark Hall of Fame) and my best efforts sound like George Formby on a bad day.....
Great fun though.
Next up (in order of purchase, remember)
YAMAHA FGX730 SCA
Ok - first question - why did I buy one? I have 5 VERY good Yam acoustics already.........
The theory was that I would sell one of my much loved APX's to finance it. As good as the APX's are they really need a GG10 box in front of them to take some of the treble off. Anyway, The FGX730 not only has a phenomenal tone, but you are no longer under the control of whoever is running the PA system.
A quite tremendous range of tones, controllable from the guitar, without any external 'boxes'. And still has that 'Yamaha sound', which I personally like. Fully bound, including the headstock, abilone soundhole inlay, easy battery access - take note Gibson - you do not have to take the damned guitar apart to replace the battery - especially on the EC10!
Great unplugged acoustic sound. - Like all Yamahas that I have played, right on it, straight from the box. Has Anybody EVER played a duff Yamaha? I most certainly haven't.
Bad things: Personally I am not a great fan of 'quasi cherry sunburst', but it is darkening off quite well now.
I love it! Also it does not matter if it gets knocked over, unlike the Gibsons!
Have played Taylors - very nice. In my opinion this is about the equivalent of a 310CE.
If anybody out there wants to sell me a 310CE for £350, which is what I paid for the Yamaha, I MIGHT consider it!
Couple of links below (build and sound)
http://www.youtube.com/watch?v=UE6fvQj7LII
http://www.youtube.com/watch?v=9_3MHwIUBvQ
Also me playing it clean without any esoteric effects:
http://www.soundclick.com/player/single_player.cfm?songid=9848127&q=hi&newref=1
STILL TO DO LIST! (guitar, year bought)
Epiphone Invader - 2010. Half owned by Mark Haley
Cort Earthwood 12 string - 2008
Yamaha FG500. - 'Acquired' 2007
Yamaha F310 2007. Given to a friend.
Variax 300 - 2005
Vintage AMG3 Tricone - 2004
Gibson J45 - 2002
Tanglewood BD2 Resonator - 2000
Fender Stratocaster - 1998
Gibson EC10 (now called J185EC) - 1996
Dobro F60S - 1996
Yamaha APX4 - 1996
Another Yamaha APX4 - 1996
Yamaha FG180 - 1972
Hofner Senator - 1965 - Dad's guitar (inherited)
These are some of the ones I have actually bought over the years. I spend as much time now playing Mark Haley hand-mades!!
Equipment:
Ok - you asked............
Recording:
Old Roland VS880 Digital studio, with the additional built in soundcard. Still works!
Sure SM57 (instrument) and Sure SM58 (vocal) mics.
Tascam DR08 Portable - pocket R/S - brilliant.
Effects:
Award Session GG10 Gordon Giltrap pre-amp. Could not do without it!
Boss BD2 Bluesdriver and Boss CS3 compression/sustainer.
Electroharmonix POG (Polygraphic octave generator).
Sabine Zipbeat 3000 Metronome.
Amps:
Roland Microcube.
Orange Crush 15R.
Vox Valvetronix 30, sometimes. Mark Haley's.
Computer stuff:
TK Multimedia Stealth plug (Guitar jack to USB).
Cubase SX + Amplitude Software.
3 terrabytes of additional hard drives. Enough space there, then!
Other bits:
Rotosound headstock tuners, D'Addario and Martin strings, Fender plex and Dunlop finger picks, Proelin livewire leads, Brass, stainless steel and Moonshine slides, Shrubb Capo's, Spider Capo, Tokstar digital phones.
That enough then?????