Mark Haley Custom Electric Ukuleles - Hand Made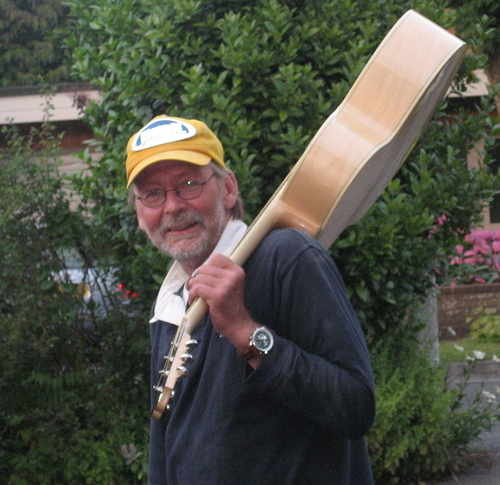 UKULELES
NOW on sale direct from Mark Haley.
Details:
Concert size Ukulele.
Chambered 150 year old pine body.
Solid walnut top with carved motif.
Wenge fret board.
Under saddle passive piezo pickup with tone and volume controls.
Burr oak headstock veneer on a mahogany neck.
Price £325.00
Contact Mark Haley through the 'Contact us' tab on the home page, and he will get back to you.
**Custom orders welcome**
Ukulele pictures courtesy of Nigel Harley - see his link on the home page.
Click on the thumbnails to see the full pictures.
Introducing the new models - details to follow: Until then -
Contact Mark Haley through this website for prices and availability. More are under construction at the moment. Please note that the photos below are not by Nigel Harley otherwise they would have been 100 times better!!!!!
The F-Hole Electric:
Master class finish and inlays, binding etc.
The Custom Electric
New Custom Electric - October 2011 - just finished.
Electro Cutaway Ukes - very different! Want a uke LP double cutaway?
NEW RANGE: About 6 currently available and more being built. Each one unique.
Spec:
Idigbo body with mahogany cap, or ebony (see black one!).
Single coil pickup with volume control
Wenge fretboard.
£375 - contact Mark Haley through this site!
Some pix:
New display cases - details to follow.
New Walnut Large F Hole model.. Purely acoustic, but LOUD.
I love it (dm)
Sound clips for the new ukuleles will be available shortly!! When I can get Steve to play one..
And this is what the early ukes sound like plugged in - Thanks to Steve Scott for playing it properly!!!
http://www.soundclick.com/bands/page_songInfo.cfm?bandID=971127&songID=10218377
Ever heard a Ukulele through a fuzz box, or whatever they call themselves nowadays. Totally barking mad! Thanks Steve!!!!
Try this:
http://www.soundclick.com/player/single_player.cfm?songid=10218469&q=hi&newref=1